2008-2017 MODEL YEARS
MANUFACTURER:
​GEHL, ​GENIE, GRADALL, ​JCB, ​JLG, LULL, SKYTRAK
MODEL:
RS5-19, RS6-34, RS6-42, RS8-42/44, RS10-44, GTH5519, GTH636, GTH644, GTH842, GTH844, GTH1048, GTH1056,
​G6-42P, ​G6-42A, G9-43A, G10-55A, G12-55A, 520, 506C, 509-42,510-56, 550-1​4​0​, ​550​-170, ​644E-42, 944E-42, 1044C-54, 6036, 6042, 8042, 10042, 10054
YEARS:
2008-2017
PLATFORM HEIGHT:
N/A
MAXIMUM LIFT HEIGHT:
19 – 56 ft
LIFT CAPACITY:
5,500 – 12,000 lbs
HOURS:
400 – 5,500
WEIGHT:
9950 – 35,860 lbs
FUEL
diesel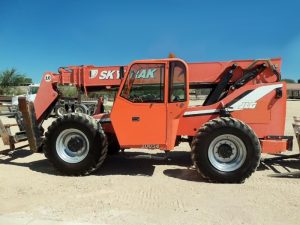 ADDITIONAL INFO ​for Telehandlers/Telescopic forklifts:

Perfect for moving heavy loads like steel, wood and masonry products; used by steel-erection, masonry and framing contractors. Most have full-time 4-wheel drive and front wheel steer, 4-wheel steer and crab steering. Automatic frame and/or fork leveling, foam filled tires, solid tires and side-tilt carriages are also available but not standard equipment on every make and/or model. Attachments available include: material buckets, augers, truss booms, swing (side-tilt) carriages, and aerial work platforms.
Everardo G. from Pontiac, MI 48340 bought a ​JLG G9-43A and said "I just received telehandler this afternoon. Excellent condition and runs great! I can't wait to get back on it after dinner and run it until dark".